A day or so ago,
a copy of a TheOneRing.net (TOR.n) post was placed here for anyone wanting to help with the New Zealand quake in Christchurch.
Now, I can add a few more things to supplement that
original post
.
First:
the original TOR.n post is still up
, with those links to places where you can donate to send support for the victims of the quake. The
morethanacandle
copy of
that post can be found as a update and won't be going anywhere
.
Second:
the
New Zealand Red Cross website is up and working
; it wasn't earlier in the week. There's mention of an appeal and how you can donate, whether from New Zealand or overseas. The
Australian
and
UK
Red Cross have set up appeals; you can find further information on the individual sites or you can find links on the
New Zealand Red Cross website frontpage
. There's also information about fundraising scams that could be useful reading.
Third:
TOR.n has an article about WETA Collectibles holding an auction to contribute and support the victims of the quake
. For further information,
visit the TOR.n article
or you can
visit WETA's eBay page
.
Fourth:
LiveJournal have made a
v-gift
as part of the recovery effort for Christchurch! It's one of 3 premium gifts available in the
v-gift shop
at present.
Fifth:
help_nz
is an auction community to help contribute support and spread awareness of the New Zealand Christchurch quake disaster. They're currently running a lightning round with requests for a second. Rules and FAQ are also available on the community in case you have any questions. Click on the banner below to go straight there and check it out.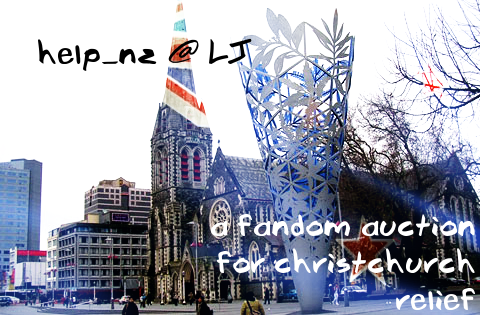 As was mentioned
earlier in the week
, if you want to help but are unable to donate? As well as sending your prayers and best wishes, spread the word about any of those appeals and auctions; share the links and let everyone know how they can help. Offer something for auction, if you'd care to do so.
Every little bit helps!